The Trauma Registry (TR) is the key tool of the ITSDP's System Development component. The TR is a flexible, user-friendly, accessible, electronic hospital-based injury surveillance tool for the ongoing monitoring and evaluation of the quality of trauma and emergency systems. The TR systematically collect, store, and summarize information about trauma patients who are treated in a particular institution(s). The TR supports quality improvement efforts, assessment of clinical performance, and overall quality of care.
The main objective of the TR is to provide information that can be utilized to improve the efficiency and quality of trauma and emergency systems. These data can be analyzed to support quality improvement efforts, assessment of clinical performance, and overall quality of care.
The Trauma Registry provides hospitals solid evidence to support hospital's performance and quality improvement efforts by:
Establishing a performance baseline. Knowing the baseline statistics (real numbers) allow comparison and definition of benchmarks. Usually, numbers far above or, far below the baseline are candidates for further investigation. They may indicate areas for improvement or reconfiguration.
Identifying strengths, weakness, and resources. Recognizing strengths, weaknesses and available resources allow the leadership team to define an action plan for closing identified gaps in clinical interventions, policies, workforce capabilities, and other performance measures.
Fairly allocating scarce resources. Supporting evidence-based resource allocation decisions for trauma and emergency systems is essential when the equitable and appropriate distribution of limited resources (financial, technical and knowledge) is necessary.
Identifying needs for continuous quality improvement.  Recognizing opportunities for improvement (identifying problems) lead to the implementation and monitoring of corrective actions and assessing their effectiveness. A risk-based approach to quality care focusses on the most important causes of errors or procedural lapses.
Assessing needs for evidence-based clinical protocols and training. Identifying and addressing training needs and having available up-to-date clinical protocols and guidelines have been shown to reduce undesirable patient outcomes through improved standardization and communication.
Influencing injury prevention and control policies. Advising public health injury prevention policy makers on prevention and control policies with the ultimate goal of reducing the burden of the injury (incidence, mortality, and disability).
Emphasizing on the importance of a two-way referral system.  Strengthening an effective referral system ensures a close relationship between all levels of the health system and helps to ensure people receive the best possible care. It also assists in making cost-effective use of hospitals and primary health care services.
Fostering research and publication of results. Publishing research results contributes to the institution's prestige and standing, to the education of peers, and also to serve as a conduit to establish links with other health care centers, with potential for clinical referral, training, and research opportunities.
Trauma Registry Tiers
An improved version of the ITSDP's Trauma Registry was launched in January 2017. The Trauma Registry has a new integrated TIER/level design approach to meet the needs of every healthcare facility.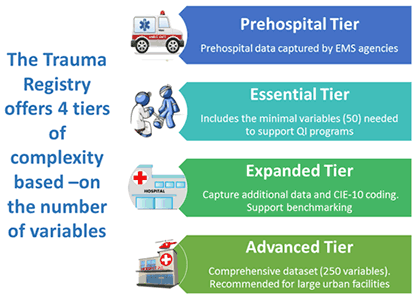 ---
Trauma Registry Roadmap
The roadmap illustrates the steps or actions that healthcare facilities should follow to access the TR.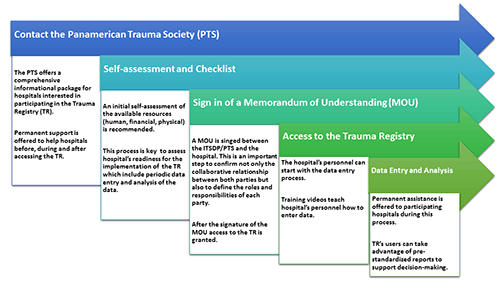 Benefits of Using the Trauma Registry
In general the TR intends to enable users mostly to:
1) assess and improve patient care;
2) identify opportunities for injury prevention initiatives;
3) document the medical, economic, and social effects of trauma; and 4) develop and test research hypotheses.
There are many other additional benefits for healthcare facilities and providers.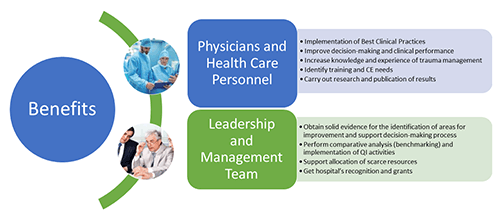 ---
Trauma Registry Key Features
The ITSDP's Trauma Registry has several unique features.
Best practices for data validation. Precise data quality rules and error review system are incorporated to avoid common human-related errors including incorrect or out-of-range values, missing values, responses that are logically inconsistent with other responses in the database, and duplication of patient records. 
Reliable storing and securing datasafeguards. Up-to-date policies, procedures and maintenance of information security controls are followed to protect private information, data and access.
Backing-up capabilities. Data entered into the registry is backed-up on a regular basis.
Web-based platform. Software has been developed to enable wireless devices (e.g. tablets) to collect data and transmit them over the internet to database servers.  The TR is accessible from anywhere in the world using any type of device with internet connectivity.
Permit multiple languages. The platform is designed to support multiple languages. Currently English and Spanish is available, Portuguese coming soon.
User-friendly. Easy to use and understand data entry screens.
Require minimal data entry training. Although the data entry training is simple, it is recommended that data entry personnel have basic medical terminology.
Customization. A modular configuration allow hospitals to create or modify their registries (tailored dataset) to satisfy their specific needs.
Access privileges to users. The TR supports multiple roles with varying degrees of access (viewer, data entry, manager).
Data variables are logically grouped in categories. Data variables are grouped in the following categories: demographic information, chief complaint, injury mechanism, prehospital, vital signs, physical exam, severity score, ED management and diagnosis, In-patient management, referral system.
Ability to search for specific existing trauma patients' records. TR's users can search at any time for specific and previously entered patient's record.
Integration of International Classification of Diseases (ICD-10) and other relevant trauma-related scoring systems or indexes.

Physiological: Vital Signs, level of consciousness, Glasgow Coma Scale (GCS), Revised Trauma Score (RTS)
Anatomical: Abbreviated Injury Scale (AIS), Injury Severity Score (ISS), Organ Injury Scale (OIS), KTS, TRISS
Capability to record referral system performance. Support two-way or multiple referral workflow built for trauma records.
Available pre-standardized reports. Users can use existing pre-standardized reports to facilitate data analysis process.
Saving of queries search. All queries search can be saved and stored for future use.
Data downloading options available. All data for the user's specific hospital can be download into Excel spreadsheets.
Integrated user manual and training videos. Users have access to training videos to assist data entry and reporting.
Browser Support. The TR is designed to work on the following browsers with support for cookies and JavaScript.
Mozilla Firefox (version 3.6 and higher)
Internet Explorer (version 9 and higher)
Google Chrome
Apple Safari

---

ITSDP/TR Quality Assurance of Data Collection
The TR strive to adhere to the quality assurance principles recommended for patient registries 1. The ultimate objective of quality assurance principles is to guarantee the validity and reliability of the data collected.  Validity refers to the credibility of the data. If data are valid, they must be reliable. In order for research data to be of value and of use, they must be both reliable and valid.
In order to maintain a high quality standard, the TR incorporated automated data validation checks for the correction or amelioration of data errors at the time of data entry. Common human-related data entry errors such as missing values, incorrect or out-of-range values, and inconsistent data and duplication of records are avoided.  
In addition, the TR keeps track of changes made in the patient registries as a results of manual data cleaning procedures or mistakes; instead of simply replacing erroneous data with corrected data, the TR is able to flag data as erroneous without deleting them and to insert the corrected data for subsequent use.
The ITSDP suggest TR's users the following steps for assuring data quality:
Training of the data entry personnel to reduce errors in inclusion and exclusion criteria, interpretation and coding.
Data completeness. All data variables should be filled out.
Data Consistency or use of standardized procedures including uniform and systematic methods for collecting data.
Onsite audits to validate the quality and completeness of the registries being entered.
1 Gliklich RE, Dreyer NA, Leavy MB, editors. 3rd edition. Rockville (MD): Agency for Healthcare Research and Quality (US); 2014 Apr. Report No.: 13(14)-EHC111.AHRQ Methods for Effective Health Care.

---
If you are a current user of the ITSDP/PTS TRAUMA REGISTRY and would like to access the registry, click here.

Become Part of the ITSDP/PTS Trauma Registry
If you would like to become a participating facility in the ITSDP/PTS Trauma Registry, please contact the Trauma Registry coordinator:
Nancy Valencia-Rojas, MSc.
ITSDP Coordinator
Division of Acute Care Surgical Services
Department of Surgery
Virginia Commonwealth University, School of Medicine
804.827.2207 | FAX: 804.828.215
Email: nancy.valenciarojas@vcuhealth.org

---
CURRENT TRAUMA REGISTRY IMPLEMENTATIONS
PILOT PHASE: Cali, Colombia


The PTS with the initiative to establish the use of a trauma registry in Latin America initiated the pilot phase of the ITSDP / PTS electronic trauma registry in "Hospital Universitario del Valle" and the "Fundación Vallle de Lili" in Cali, Colombia, during October 2011. The Hospital Universitario del Valle is one of the main trauma centers in Cali, with an estimated number of 43,652 emergency patients in the 2010, of which 20% were admitted with trauma injuries. The Valle de Lili foundation had a total of 10,000 trauma consults in 2010 with a total of 1200 patients that were admitted.
Training was conducted in a two day period, to a group of 14 people including paramedics, statisticians, epidemiologist, trauma and critical care fellows and medical students. During the first day a presentation on trauma systems and trauma registry was given. After which access to the registry was granted to participants and training on how to use the registry initiated. Participants were trained on how to enter patient data in the "Trauma Registry" module and entered patient data as an interactive practice. During the second day training on how to generate reports with patient's data was conducted. They learned how to generate fixed reports and filter specific reports.

PILOT PHASE: Panama City, Panama
During February 2012, the Santo Tomas hospital, the main trauma center in Panama city was trained during a two day period on the use of the registry. During 2010 a total of 15,576 patients were admitted to the ED due to trauma, representing 26% of all ED patients, of these 3% died.*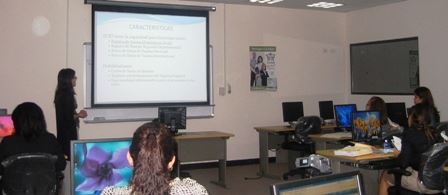 Doctors and nurses in charge of the trauma registry were trained for two days. During the first day the director of the trauma center Dr. Martha Quiodettis gave a hospital tour to the instructors and evaluated the forms that are used for data collection of all trauma patients. During training, participants accessed the registry and learned how to enter data, later they entered data of patients that were currently hospitalized using their forms. The second day participants managed the data entered by generating fixed and modifiable reports.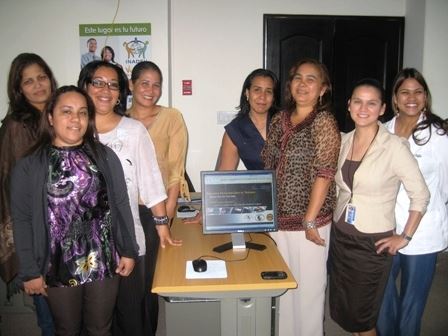 PILOT PHASE: Medellin, Colombia
Medellin is the second largest city in Colombia and the capital of the Antioquia department. Intentional and non-intentional injuries resulted in 34,529 deaths or 18.3% of all deaths in Colombia in 2005. During November 2012 the ITSDP /PTS Trauma Registry was implemented at San Vicente Fundacion. Training was conducted in two days and included talks on trauma systems, trauma registry, quality improvement and data reporting. During January 2014 to December 2013 a total of 1040 patients were admitted and reported in the trauma registry.

PILOT PHASE: Santa Cruz, Bolivia
Santa Cruz de la Sierra, Bolivia is the most populous city in the country, and was selected as the initial site for the trauma registry program due to strong local stakeholder engagement. The pilot phase of the ITSDP /PTS Trauma Registry began in January 2015 at one facility based on the Essential Elements registry model. The selected hospital, Clínica Foianini, is a private, 50-bed, third-level facility located in the city center. Education and training sessions were held over two days with emergency room staff, who were selected to prospectively collect registry data using a two-page, paper form that reflected the variables within the electronic registry.
In October 2015, four additional facilities joined Clínica Foianini in the Bolivian ITSDP/PTS Trauma Registry program, together constituting the institutions that treat the majority of trauma patients in the city.
These include:
Hospital San Juan de Dios: a public, 224-bed, third-level facility that treats non-pregnant adults (aged 13 years and older)
Hospital Universitario Japones: a public, 189-bed, third-level facility that manages patients of all ages
Hospital de Niños Mario Ortiz Suarez: a public, 120-bed, third-level facility that cares for children up to the age of 12
Hospital Municipal Plan Tres Mil: a public, 146-bed, second-level facility located at the periphery of the city in a low socioeconomic neighborhood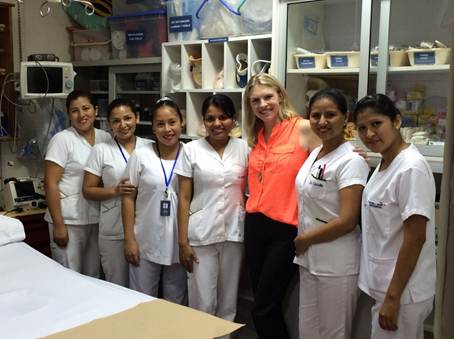 An official policy instructive released in October 2015 by the Secretary of Health and Social Policy and the Director of the Health Department of the Autonomous Department of Santa Cruz made the trauma registry obligatory in the five participating hospitals. Site visits were made to each hospital, and discussions were held with emergency room and hospital leaders, and those involved with epidemiological surveillance and statistics. These meetings were done to ensure essential stakeholder engagement from the start, and to inform registry methodology and process modifications, such as data collection form changes to increase clarity and setting applicability. Multiple training sessions on data collection and entry were held at each site, and the program officially began in all five hospitals in December 2015.
Regular meetings are held with hospital and health department leaders to review data quality and highlight targets for improvement. Additional presentations are given to emergency room staff at each of the participating hospitals, to demonstrate the results of their efforts as well as to identify problem areas. As of March 2015 there were over 1,500 patient entries in the electronic registry system. Future plans include program expansion to additional hospitals within the city, and to other municipalities in the Department of Santa Cruz, along with standardization and integration of pre-hospital data from first responder groups.