Developing countries are faced with the challenges and pressures of health care inequities and scarcity of resources. There is an urgent need to provide both essential and cost effective trauma care. However, a major impediment to trauma system development and provision of essential trauma care in these regions is inadequate or nonexistent data. The under-registration of mortality and morbidity impedes accurate assessment of the true burden of injury, and results in a decrease of allocation of resources for essential trauma care.
An injury surveillance system based on a piloted regional trauma registry is the most important initial step for the development of trauma systems.
The International Trauma System Development Program in collaboration with the Panamerican Trauma Society has created an accessible, web based trauma registry in order to improve data collection and data management, for the generation of statistics that will identify the quantity, type and mechanisms of trauma injuries, as well as evaluation of internal and external resources needed for proper trauma patient management.
Goals
The objective is the provision of an integral injury surveillance system for specific evaluation and the follow up of the impact of current projects for the development of a regional trauma system, specifically:
a) Injury Prevention Programs
b) Emergency Pre-hospital Medical Services
c) Trauma and Critical Care Training
d) Inter-facility transfer system
e) Local and Provincial Trauma Statistics
f) Quality /Performance Improvement

This process consists of the following;

1. Granting an emergency trauma form
2. Creation of a corresponding electronic trauma registry
3. Training of health care workers and data entry staff
4. Periodic auditing of the data collected and entered
NEW Trauma Registry Launch
A new and improved version of the ITSDP/PTS Trauma Registry has been launched January 2017. The ITSDP/PTS Trauma Registry has a new integrated TIER/level design approach to meet the requirements of every health care facility.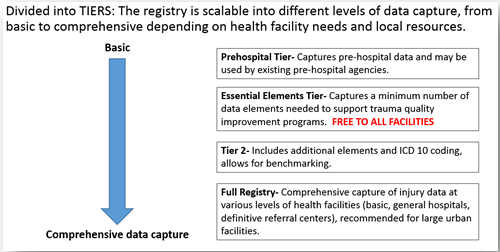 Essential Elements Tier Free !!
Features
Secure log in and user management
Web-based system accessible from anywhere in the world using any type of device with internet connectivity
Capable of supporting multiple languages: The system is designed to support multiple languages as long as the language translation dictionary is available (Currently English and Spanish is available, Portuguese coming soon).
Easy to use and intuitive data entry screens
Minimal training is required for users
Mobile friendly and scalable design
System configuration options to manage existing users and add new users
Modular system and database design allows speedy customization
The user screens logically groups related data elements
Powerful and flexible searching of existing trauma records
Integration of:
International Classification of Diseases (ICD-10)
Trauma Scores

Physiological: Vital Signs, level of consciousness, Glasgow Coma Scale (GCS), Revised Trauma Score (RTS)
Anatomical: Abbreviated Injury Scale (AIS), Injury Severity Score (ISS), Organ Injury Scale (OIS), KTS, TRISS

Logical grouping of elements allows turning on and off of elements at the tier level
Support for reference and counter reference work flow built for trauma records
Canned reports available for users
Advanced reporting allows users to develop and store queries for future use
Data download options available
Integrated data quality and error review system
Integrated Help Module
Browser Support
The system is designed to work on following browsers with support for cookies and JavaScript enabled.

Mozilla Firefox (version 3.6 and higher)
Internet Explorer (version 9 and higher)
Google Chrome
Apple Safari
Device Support
The system is designed to work in a browser, independent of any device (mobile phone, tablets, etc..)
Ability to function as a:
Hospital Trauma Registry and a Regional Trauma database
If you are a current user of the ITSDP/PTS TRAUMA REGISTRY and would like to access the registry, click here.

Become Part of the ITSDP/PTS Trauma Registry
If you would like to become a participating facility in the ITSDP/PTS Trauma Registry, please contact the Trauma Registry coordinator:
Nancy Valencia-Rojas, MSc.
ITSDP Coordinator
Division of Acute Care Surgical Services
Department of Surgery
Virginia Commonwealth University, School of Medicine
804.827.2207 | FAX: 804.828.215
Email: nancy.valenciarojas@vcuhealth.org

---
CURRENT TRAUMA REGISTRY IMPLEMENTATIONS
PILOT PHASE: Cali, Colombia


The PTS with the initiative to establish the use of a trauma registry in Latin America initiated the pilot phase of the ITSDP / PTS electronic trauma registry in "Hospital Universitario del Valle" and the "Fundación Vallle de Lili" in Cali, Colombia, during October 2011. The Hospital Universitario del Valle is one of the main trauma centers in Cali, with an estimated number of 43,652 emergency patients in the 2010, of which 20% were admitted with trauma injuries. The Valle de Lili foundation had a total of 10,000 trauma consults in 2010 with a total of 1200 patients that were admitted.
Training was conducted in a two day period, to a group of 14 people including paramedics, statisticians, epidemiologist, trauma and critical care fellows and medical students. During the first day a presentation on trauma systems and trauma registry was given. After which access to the registry was granted to participants and training on how to use the registry initiated. Participants were trained on how to enter patient data in the "Trauma Registry" module and entered patient data as an interactive practice. During the second day training on how to generate reports with patient's data was conducted. They learned how to generate fixed reports and filter specific reports.

PILOT PHASE: Panama City, Panama
During February 2012, the Santo Tomas hospital, the main trauma center in Panama city was trained during a two day period on the use of the registry. During 2010 a total of 15,576 patients were admitted to the ED due to trauma, representing 26% of all ED patients, of these 3% died.*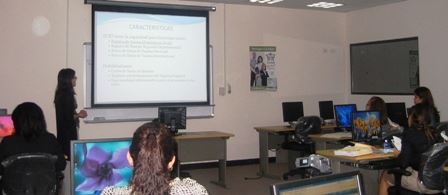 Doctors and nurses in charge of the trauma registry were trained for two days. During the first day the director of the trauma center Dr. Martha Quiodettis gave a hospital tour to the instructors and evaluated the forms that are used for data collection of all trauma patients. During training, participants accessed the registry and learned how to enter data, later they entered data of patients that were currently hospitalized using their forms. The second day participants managed the data entered by generating fixed and modifiable reports.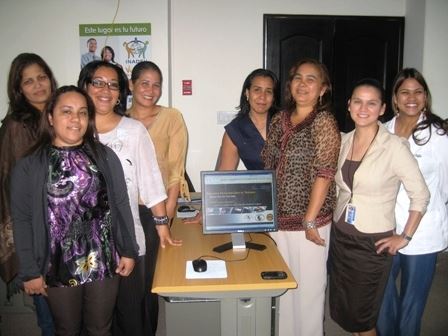 PILOT PHASE: Medellin, Colombia
Medellin is the second largest city in Colombia and the capital of the Antioquia department. Intentional and non-intentional injuries resulted in 34,529 deaths or 18.3% of all deaths in Colombia in 2005. During November 2012 the ITSDP /PTS Trauma Registry was implemented at San Vicente Fundacion. Training was conducted in two days and included talks on trauma systems, trauma registry, quality improvement and data reporting. During January 2014 to December 2013 a total of 1040 patients were admitted and reported in the trauma registry.

PILOT PHASE: Santa Cruz, Bolivia
Santa Cruz de la Sierra, Bolivia is the most populous city in the country, and was selected as the initial site for the trauma registry program due to strong local stakeholder engagement. The pilot phase of the ITSDP /PTS Trauma Registry began in January 2015 at one facility based on the Essential Elements registry model. The selected hospital, Clínica Foianini, is a private, 50-bed, third-level facility located in the city center. Education and training sessions were held over two days with emergency room staff, who were selected to prospectively collect registry data using a two-page, paper form that reflected the variables within the electronic registry.
In October 2015, four additional facilities joined Clínica Foianini in the Bolivian ITSDP/PTS Trauma Registry program, together constituting the institutions that treat the majority of trauma patients in the city.
These include:
Hospital San Juan de Dios: a public, 224-bed, third-level facility that treats non-pregnant adults (aged 13 years and older)
Hospital Universitario Japones: a public, 189-bed, third-level facility that manages patients of all ages
Hospital de Niños Mario Ortiz Suarez: a public, 120-bed, third-level facility that cares for children up to the age of 12
Hospital Municipal Plan Tres Mil: a public, 146-bed, second-level facility located at the periphery of the city in a low socioeconomic neighborhood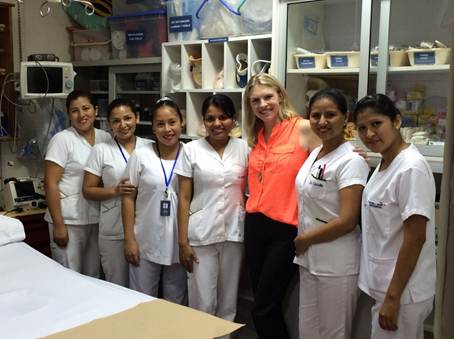 An official policy instructive released in October 2015 by the Secretary of Health and Social Policy and the Director of the Health Department of the Autonomous Department of Santa Cruz made the trauma registry obligatory in the five participating hospitals. Site visits were made to each hospital, and discussions were held with emergency room and hospital leaders, and those involved with epidemiological surveillance and statistics. These meetings were done to ensure essential stakeholder engagement from the start, and to inform registry methodology and process modifications, such as data collection form changes to increase clarity and setting applicability. Multiple training sessions on data collection and entry were held at each site, and the program officially began in all five hospitals in December 2015.
Regular meetings are held with hospital and health department leaders to review data quality and highlight targets for improvement. Additional presentations are given to emergency room staff at each of the participating hospitals, to demonstrate the results of their efforts as well as to identify problem areas. As of March 2015 there were over 1,500 patient entries in the electronic registry system. Future plans include program expansion to additional hospitals within the city, and to other municipalities in the Department of Santa Cruz, along with standardization and integration of pre-hospital data from first responder groups.