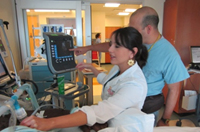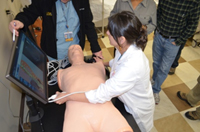 The PTS International Observership program is open for qualified foreign national members who wish to visit and observe certain clinical and educational activities of afilliated trauma centers for a short period of time.
Focus / Component of the program
The experience as an observer can include combined educative components depending on what the participants interest is.
Surgery Trauma Intensive Care Unit
Trauma Systems / EMS
Center for Trauma and Critical Care Education
Performance Improvement Program
Ultrasound in emergency and trauma
Other
Current PTS Collaborative Partners / Host Institution Within VCU:
Department of Surgery, Division of Acute Care Surgical Services
VCU Center for Trauma and Critical Care Education
MCVH Performance Improvement Program
Center for Human Simulation Center
Minimally Invasive Surgery Center
Surgery Trauma ICU
International Trauma Systems Development Program (ITSDP)
In Richmond:

Chesterfield Fire/EMS
Richmond Ambulance Authority
Life Evac

In the US:

University of Pittsburgh Medical Center (Pennsylvania)
Riverside Country, Regional Medical Center (California)

Outside US:

Panamerican Trauma Society and its 18 affiliated Trauma, Critical Care, and Prehospital societies.
"El Valle University" in Cali, Colombia
Sample Activities
Various activities at the different host institutions are developed for the observer, some included:
1. Surgery Trauma ICU
Observe critical care management of surgical critical care patients via ICU rounds, participate in discussions. The Observer will also participate in the weekly teaching seminars of the Division of Acute Care Surgical Services.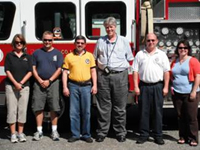 2. Trauma Systems - EMS / Center for Trauma and Critical Care Education (CTCCE)
At CTCCE the Observer has the opportunity to observe the various skills and personnel needed for program planning and management, curriculum development and program administration. The observer will learn about several different types of EMS systems in the commonwealth of Virginia including medical air services, ride with different rescue squads. Will participate in the trauma and EMS Training Programs and continuing education programs conducted by CTCCE. The above skills and information is crucial for the organization and enhancement of EMS systems in international settings.
3. Division of Trauma Performance Improvement Program (PIP) and the Trauma registry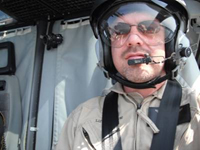 Will get to observe the Performance Improvement/ Trauma Registry coordinator who utilizes clinical expertise to abstract data, assign abbreviated injury scores and identify, report and follow up on quality issues. The PIP/Registry Coordinator also analyzes data and develops reports for statistics, research, and planning. the Observer will gain insight into the importance of the trauma registry as a tool for trending data and separating out the trauma population for comparative analysis. The observer will learn the structure and operation of a Trauma Medical Audit Committee and learn the value of developing a peer review committee analysis of preventable pre-hospital and in-hospital factors contributing to trauma deaths.
4. Ultrasound in Emergency and Trauma
In addition the rotation can be focused on emergency and trauma ultrasound training under the leadership of Dr. Paula Ferrada, with emphasis on echocardiogram and FAST of critically ill patients.

2011 - 2012 OBSERVERS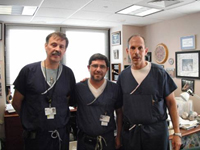 Dr. Juan Carlos Salamea a Trauma and Critical Care fellow from the "El Valle University" in Cali, Colombia got the opportunity to do a three month rotation from July 5th through September 25th 2011, with a focus on Trauma Systems and EMS.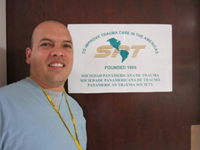 Dr. Juan Sebastian Martinez a Fourth year surgical resident from Cali, Colombia did a one month rotation during January 2012. He visited Virginia Commonwelath University Medical Center and his rotation was focused on emergency and trauma ultrasound.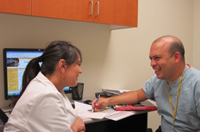 NOTE:
Observation only: This program is strictly observational. A Participant shall in no way be permitted to actively participate in patient care or direct contact, examination, research or other work during his/her observership.

Contact Information
If you wish to participate as a host center please notify ITSDP/VCU coordinator who the observership program coordinator is for that institution or center.
Participants, who wish to observe activties at VCU please contact ITSDP/VCU observership coordinator for more information and requirements.
Observers who wish to observe activties at other participating instituions (other than VCU) contact ITSDP coordinator who will provide coordinator contact information for that instituion.